There are two investment routes for you to choose from: lifestyle and freestyle.
Both routes use a combination of equity, bond and cash investment funds. The freestyle route also offers a property fund.
All the funds are unitised, which means that you buy investment units rather than individual shares. The value of the units goes up and down in line with various stock markets.
Lifestyle
Choosing the lifestyle strategy means that:
You invest in passively managed 'tracker' funds
Your money is automatically switched between different asset classes as you progress through your career
You invest in equities up to 8 years before retirement, then gradually switch to bonds and cash to lock in previously earned growth
If you're planning to retire early, you can tell us your target retirement age and the switching will start 8 years before that date
You don't need to make any investment decisions
Early to mid-career, you'll be invested in the equity fund. As you approach retirement, you'll gradually switch into a combination of bonds and cash. The aim is to lock in any growth you've achieved in the equity fund and reduce the effect of stock market volatility in the 8 years before retirement. By switching in this way you're safeguarding your portfolio in anticipation of buying a pension.
To see how the lifestyle funds are managed, and what the charges are, go to fund management & charges.
Here's how the switching process works in the run up to retirement.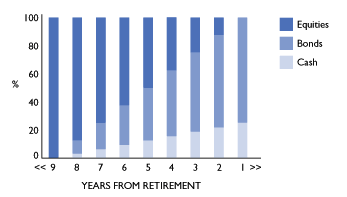 Members 'lifestyling' before 1 January 2005, who haven't voluntarily opted for 8 year switching, will retain the 5 year switching process.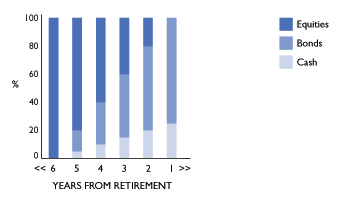 The trustee has discretion to change the lifestyle strategy and any detail of the underlying funds at its discretion. We'll tell you whenever changes are planned.
Freestyle
Choosing the freestyle strategy means that:
You invest in a mixture of passively and actively managed funds
You can allocate your money to the asset classes you feel are most appropriate to your personal financial plans
There's no automatic switching between investment classes
The freestyle equity funds invest in a selection of shares chosen by an investment manager. They aim to outperform the stockmarket but are riskier than index-tracking funds because your investment returns depend, to some extent, on the skill of the investment manager.
To see how the freestyle funds are managed, and what the charges are, go to fund management & charges.
The trustee monitors the performance of the investment fund managers and may appoint other investment managers as considered appropriate.
We can't give you advice about which strategy or funds to choose. If you can't make your mind up, you might want to see an independent financial adviser.